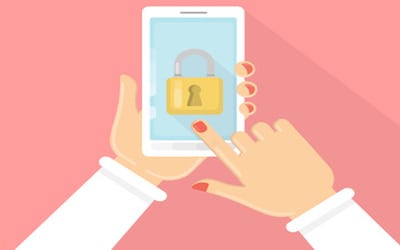 A friend told me about a man texting her mobile phone that she didn't want to hear from. She put a block on her phone to prevent his texts from getting through, and that was the end of any communication from him.
I loved the lesson, because it could be applied to our state of thought.
If we are hearing messages from the mental ether that we don't want to hear, we can put a mental block in place to keep them out.
We do it all the time in different ways.
For instance, if I'm exposed to an advertisement that suggests I drink alcohol, I don't hear it. I have a mental block in place that says, "I absolutely have no desire, interest or inclination to drink alcohol." So, no matter how many advertisements I see that advocate drinking, or people around me tell me I should drink, I essentially don't see or hear them. I have absolutely no interest or inclination to do what they want me to do, and I don't.
The same rule can apply to disease. Suggestions that we should or could contract a disease come at us from all directions. But if we stay clear that we have no interest, inclination or vulnerabilities to contract them, that will contribute immensely to protecting our health.
Keeping it out of thought keeps it out of body.
Mary Baker Eddy wrote, "Sin and disease must be thought before they can be manifested. You must control evil thoughts in the first instance, or they will control you in the second. …Evil thoughts and aims reach no farther and do no more harm than one's belief permits" Science and Health, p. 234.
It takes persistence with truth and enlightened thought to defend oneself from the aggressive suggestions of disease that would bombard us. But the effort to keep thought clean is worth the reward! And one way to secure safety is to have a strong mental block in place that refuses admission to any suggestion of disease.
We are divinely designed to stay healthy. That's the way God made us and preserves us, and that's the truth we want to enjoy every day.