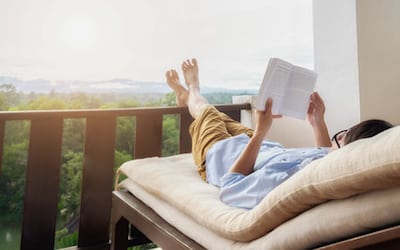 Have you ever felt like you're in your wrong place? Perhaps in the wrong job, the wrong house, the wrong community, the wrong marriage or the wrong career? If so, you have an opportunity to redeem your concept of "place."
Place, in metaphysics, is not a location in matter or a state of mortal existence. It's a state of Mind, the divine Mind, where God is all.
The best place you could ever be is with God, and you are with God always.
God is Love, and Love is everywhere. Everywhere you go, everything you do, Love is there to comfort, inspire and guide.
God is Life. Life is filled with meaning, purpose, usefulness and value. Your reason for existence is to express Life to the fullest, and there isn't anything in the so-called mortal mind world that can limit your expression of Life, which is God, for God is never at the mercy of mortality. God rules over it. And that puts you in control of it too.
God is your Home. There is no better place to be than with God, and you are always in God's loving presence no matter what your mailing address.
God is your Employer. He keeps you profitably employed and in enjoyable work that brings benefit to you and all around you. Your #1 job is to reflect wisdom, care, usefulness, worth and value. And you can do that without limit.
God is your constant companion. He's the best companion you could ever have! He loves you, supports you, watches out for you, guards, guides and listens to you. He knows everything about you and ensures you have everything you need to flourish and prosper.
You can never leave God's presence or lose it. It's a constant. It's permanent, always here, everywhere.
When you live, work and think with God, you are in the best place possible. So, rejoice where you are! Silence all complaining. Be grateful for what you have, and prosper!
"I pray to you, O Lord. I say, "You are my place of refuge. You are all I really want in life." Psalms 142:5, NLT.