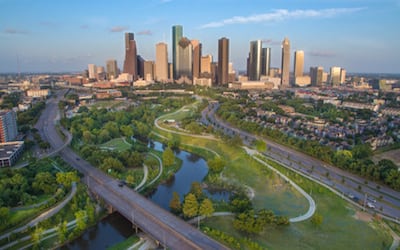 Tens of thousands of people in the Houston, Texas, region are struggling mightily with the devastating effect of unprecedented floods swamping their homes and highways. Their plight is a call for those standing on dry ground to aid however they can.
I was heartened to hear about miles of rescuers driving into the city with their boats in tow to aid the rescue effort, the thousands of selfless volunteers doing whatever they can to help, and people and organizations from afar sending money and supplies. There is something all of us can do, no matter where we live.
I also pray for the safety and quick recovery of those living in the flooded territory. God is bigger than this flood, I know!
I love the promise in this verse from the Bible, "When the enemy comes in like a flood, the Spirit of the Lord will lift up a standard against him" (Isaiah 59:19, NKJV). There is no problem too big for God to solve. There is no loss too great that cannot be replaced. There is no flood too big to overcome. God is Almighty good, an infinite Love, that has unlimited resources to overturn evil effects and bring people to a better place than before.
I pray that the Spirit of the Lord is felt by every resident in Houston to lift their hearts, enlighten their perspective, reveal workable solutions to their problems and bring abundant resources to their aide to get their lives back together again.
I pray that no one be overcome by discouragement. That hope can be found and faith abound that "this too shall pass."
I pray that people stay positive and look up, not down, to see their help coming from above and able to meet their need.
I pray that people feel and know the love of God that is with them comforting, leading, guiding and guarding their thoughts and actions. I pray for peace in their hearts while they listen to the voice of wisdom within and decide their next steps. I pray for a quick comeback.