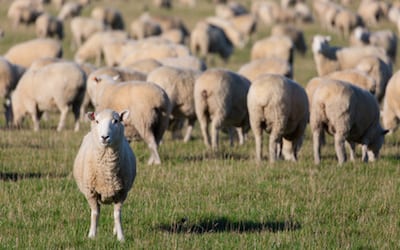 Have you ever done something not because you really wanted to, but because other people around you were doing it?
Have you ever adopted a line of reasoning, not because you came up with the reasoning yourself, but because others around you believed it, so to please them you accepted it as your own?
Here is an entertaining video that graphically illustrates the critical importance of thinking for yourself, and not doing something just because others around you are doing it. I don't know if this video was staged or not, but it doesn't matter. The lesson is still right on, I think you'll agree.
"Hidden camera social experiment proves most people are sheep"

For success in spiritual healing, Christian Science emphasizes the importance of understanding that there is only one Mind governing man and the universe. This Mind thinks for itself, forming conclusions and determining action through the influence of Truth and Love, and never according to what a mortal may or may not believe.
So, for instance, if many people around you believe in the reality of disease and the danger of it, you do not need to go mentally down that same path and suffer from that belief system. You can resist it with Truth, ward it off, and stay protected from it.
Mary Baker Eddy wrote,
"We weep because others weep, we yawn because they yawn, and we have smallpox because others have it; but mortal mind, not matter, contains and carries the infection. When this mental contagion is understood, we shall be more careful of our mental conditions, and we shall avoid loquacious tattling about disease, as we would avoid advocating crime. Neither sympathy nor society should ever tempt us to cherish error in any form, and certainly we should not be error's advocate" Science and Health, p. 153.
The wise watch their "mental conditions," and let "neither sympathy nor society" outline their state of thought or course of action.
It's okay to be a sheep, if Christ is your Shepherd! And not mortal opinion.