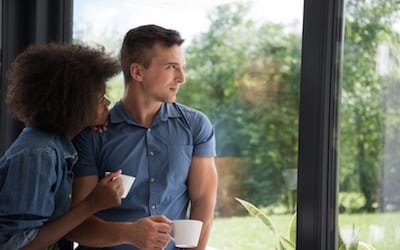 A woman was complaining to me about many shortcomings of her husband and how his actions were making married life difficult in the home. After listening a bit, I replied, "You are married to a child of God, which makes him the perfect husband."
We discussed further about how seeing God's man in her husband could bring out more of his God-given nature and make him more enjoyable to be around. It worked. Their married life improved dramatically in a short period of time.
Jesus said about marriage, "let no one split apart what God has joined together" (Mark 10:6-9, NLT). At surface glance, one might conclude that Jesus was talking about two mortals coming together under God's direction, and then allowing no one or no situation to split that human union. But from a Christian Science point of view, there is deeper meaning to glean.
Mary Baker Eddy wrote, "The scientific morale of marriage is spiritual unity" (Science and Health with Key to the Scriptures, p. 61). Spiritually considered, marriage is about more than two humans cohabitating. It's about each partner uniting with the spiritual idea of their spouse. It's about seeing the spiritual "male and female" of God's creating in their partner and loving it, cherishing it, honoring its presence and living with it.
When our spouse is living up to less than the divine ideal, at least from our point of view, that is a call on our prayers to see beyond the mortal shortfall to what God put there in the first place. When we are united with the perfect man of God's creating in our thought, no evil of mortal mind can enter and split that union.
I find it very helpful in my marriage to remember that I am married to the perfect woman—God's woman. There are no mortal shortcomings in this woman. There is never anything to get upset about, distressed over or anxious about. There is only the love, wisdom, care, and tender touch of God to see and acknowledge. The perfect woman makes the perfect wife for me, and that's exactly what I find in Kathy, my wife.
If you're looking for happier times in your marriage, elevate your concept of God's man, and see the perfect husband or perfect wife in your spouse. It's there if you look deep enough for it. What God has put in place is never lost or put asunder.