If you are in search of healing, I'd love to speak with you.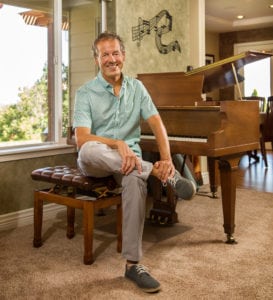 I am a Christian Science practitioner who is available to give Christian Science treatment to anyone open to healing through prayer.
Christian Science treatment is a prayer-based method of healing that is based upon the teachings of Jesus Christ and the healing laws of God as explained in Science and Health with Key to the Scriptures, by Mary Baker Eddy.
Jesus Christ said, "Know the truth, and the truth will set you free." The purpose of my treatment is to know the spiritual truth for my patients that sets their thought free from whatever appears to be holding them back mentally, emotionally, or physically. The premise of my treatment includes the truth that as a child of God everyone has a divine right to experience health, love, harmony and needs met. When I pray with my patients, I strive to help them see this truth as their reality.
I do not rely upon drugs, vitamins, herbs, therapies, or any other type of material prescription.
My treatment is metaphysical, relying upon prayer to bring the healing power of God to bear upon a patient's thought to help them experience better health and freedom from suffering.
I have practiced professionally for over 28 years, and am available to pray for anyone seeking spiritual help. Whether your problem is physical, emotional, mental, marital, social, or financial, there is a spiritual solution that can resolve that trouble and take you to a better place. All things are possible with God.
I hold all communications from clients as confidential. And I'm happy to help anyone who has a desire for spiritual healing, regardless of their religious, cultural, ethnic, sexual or medical background.
"Divine Love always has met and always will meet every human need." ~ Mary Baker Eddy
---
Christian Science Healing
Christian Science is a prayer-based method of treating disease and alleviating suffering.  It has been practiced by thousands of professional healers around the world for over 125 years. Discovered by Mary Baker Eddy in 1866, it explains how Jesus Christ healed through divine law. It teaches how we can learn to heal through his example and teachings.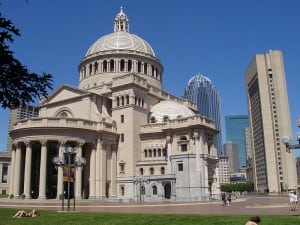 The rules of Christian Science and its method of treating disease are explained in the textbook, Science and Health with Key to the Scriptures, by Mary Baker Eddy.  First published in 1875, millions of copies of Science and Health have sold over the last century to people of various faiths and backgrounds.
Christian Science is not a church, or an organized religion. It is a universal system of spiritual healing anyone can practice whether they are religiously affiliated or not.  Christian Science is the divine Comforter promised by Jesus that comes to us where we are. It reveals to us our immortal selfhood at-one with God, and takes mortal suffering away.
There is a church, The First Church of Christ, Scientist, headquartered in Boston, Massachusetts, whose members practice Christian Science. But Christian Science itself is a teaching accessible to all earnest seekers of Truth.
"I will pray the Father, and he shall give you another Comforter, that he may abide with you for ever…I will not leave you comfortless: I will come to you." – Jesus Christ
Science and Health with Key to the Scriptures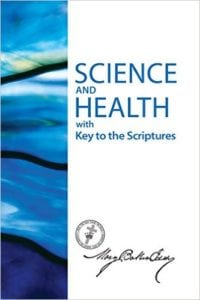 Science and Health is a book that explains how Jesus Christ healed the sick. It describes the universe from a spiritual point of view, how to overcome evil with good, and how to find eternal life.
The author of Science and Health, Mary Baker Eddy, discovered a science to the healing works of Jesus Christ. Through divine revelation, Biblical study, and personal experience, she saw divine laws at work that enable spiritual healing to occur. She put the laws into practice and was able to cure disease, restore health, and save the lost. Science and Health outlines a spiritual method of treating disease that can be practiced by anyone. This method relies upon the power of divine Mind to effect a cure, reasoning from the basis that God is good, is all-power and wills only good, health and well being for His children.
First published in 1875, Science and Health has been studied by millions of people. These people seek spiritual answers to the deepest questions about life. It is an excellent resource for understanding the life-changing messages of the Scriptures and how to heal through prayer like Jesus and the ancient prophets healed.
Mary Baker Eddy
Mary Baker Eddy was a phenomenally successful Christian healer, thinker and writer of the 19th century. Through divine revelation, personal experience and inspired study of the Bible, she discovered divine laws that maintain health, harmony and well-being. She realized that Jesus Christ understood these laws completely and left his healing legacy as proof of their operation.
As her understanding of these laws developed she was able to cure hundreds of people of terminal illness, addictions, blindness, and other crippling ailments through her prayers. She discovered a method of spiritual healing that could be learned by anyone. Jesus' promise "Those who believe, the works that I do, they shall do also," was fulfilled in her life and practice.
She called her discovery Christian Science. Christian, because it grew out of the teachings of Christ; and Science because it explained the laws of divine healing that Jesus Christ practiced successfully 2000 years ago.
She wrote her discovery in a book titled, Science and Health with Key to the Scriptures.   This book has been considered a definitive textbook for prayer-based healing by millions of people around the world since its first printing in 1875.