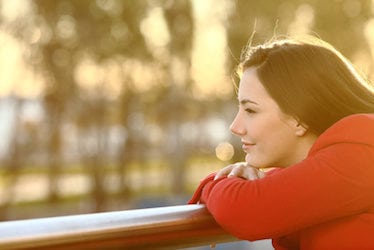 Have you ever had a premonition that something bad might happen, and then it happened?
It's wise to not ignore premonitions, but to instantly jump on them with spiritual truth, neutralize them, and make sure that they don't happen.
I've read many stories of mothers who felt sudden fear for one of their children, prayed for their safety, and then learned later that their loved one was delivered from a life-threatening situation.
I've taken this lesson to heart over the years and have done my best to catch premonitions when they come, reverse them, and know that all was well.
For instance, when I was on lecture tour, out of nowhere a fear might have appeared in my thinking for the safety of one of my children or my wife. It rarely happened, but on occasion, it did. I usually couldn't tell what the fear was about, but that didn't matter. It suggested potential harm of some kind, so I didn't ignore it. I would quickly turn on it with spiritual truth and know that my family was in the complete safety of God, protected by the omnipresence of Love, and guaranteed to stay healthy and well by the law of God forever operating in their being.
I would pray for their safety until the fear vanished and I felt peace. I never followed up to see what was happening in their life when I felt concern, but that's okay, because I didn't need too. I knew that everything was okay and the spiritual reason why, and that was the case for them.
I have had premonitions appear about fellow church members and neighbors, and have prayed for them many times, and witnessed the premonition not coming true. I'm confident my prayers have prevented much harm.
Prayer always makes a difference, and prayer can stop evil from happening.
When completely honest, it's enlightening how often we have mental warning of something not right wanting to appear in front of us. The ignorant ignore the warning, plow into it, and then wonder what happened. The wise pay attention and prevent it.
There is absolutely nothing to fear in the omnipresence of infinite Love. You are always safe in Love, always protected, always well taken care of. But if a suggestion tries to aggressively push its way into your thought that you are not safe, or that someone else is not safe, that lie needs to be identified as a lie and destroyed. Once destroyed, it's harmless. There will be no harmful effect, only a continuing experience of God's love and care. And this is the ideal to strive for.
Watch! For the good…
"When the watchman sees the enemy coming, he sounds the alarm to warn the people. Then if those who hear the alarm refuse to take action, it is their own fault if they die. They heard the alarm but ignored it, so the responsibility is theirs. If they had listened to the warning, they could have saved their lives."