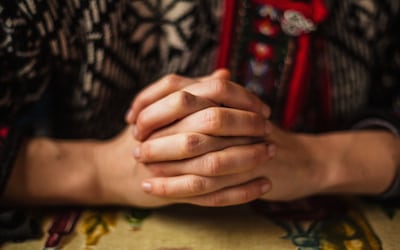 A consciousness of God heals pain.
For in God there is no pain, only infinite omnipresent Love.
When struggling with pain, the temptation is often to make it go away, to get rid of it as if it is something in the first place. It feels like a reality to the sensual mind, but to God it is impossible.
Like darkness vanishes in the presence of light, pain vanishes in the presence of God.
Through prayer, the struggling mind can leave the unrealities of mortal mind behind and step into the reality of God where there is blissful harmony and peace.
It's helpful to remember that God is not distant. God is not remote to one's experience. God is never lost.
God is here and now. God is your Life, your core, your inner and your outer, your whole entire being.
God is all. There is none other. God is the sole reality of the universe. God is all there is to think about, acknowledge, know and feel.
God is as close to you as a circle is to round.
It's spiritually natural and normal to think about God, to know God, to feel God and express God's harmony and peace.
As a child of God, you have spiritual dominion to be everything God created you to be.
Mary Baker Eddy wrote, "Banish the belief that you can possibly entertain a single intruding pain which cannot be ruled out by the might of Mind, and in this way you can prevent the development of pain in the body" Science and Health, p. 391. You are endowed with the spiritual capacity to say no to disease and yes to Life!
As God's offspring, you reflect the one body of Spirit.
The one body of Spirit is dominant harmony. There is no discord in Spirit, no irritation, no bother, no distress, no disease. There is only the presence of God, certain health, everything working together for good, everything doing what it's supposed to do, everything proper and right, correct and as God intended.
As the loved of God, you are wholly good, and divinely designed to feel only good. And all the time!
A recognition of God's omnipresent harmony makes pain go away, for in the presence of harmony, there is only harmony.
Eddy also instructed, "Let neither fear nor doubt overshadow your clear sense and calm trust, that the recognition of life harmonious — as Life eternally is — can destroy any painful sense of, or belief in, that which Life is not" Science and Health, p. 495.
God's man is not a physical body prone to suffering. God's man is not a vulnerable mortal swinging back and forth between good and evil.
God's man is wholly good. God's man is an exact manifestation of God's reality, and in God, there is no pain. There is only harmony!
Leave the mortal dream of life in matter behind. It is of no benefit, and it is not obligatory, necessary or required. To spiritual sense, it is as nothing, as a passing shadow in the night with no form, outline or place to call its own.
Man is the child of God, the offspring of Spirit, the offspring of harmony.
You are a spiritual being with spiritual identity and spiritual individuality that is forever yours to enjoy.
As God's child, there isn't anything wrong with you. You do not have to suffer. You do not have to wrestle on end with a suffering sense. Let it go. Let Christ lift your thought to immortal Truth. Claim your spiritual heritage in God. Be everything God created you to be. Be free!
Science and Health reminds us, "The depth, breadth, height, might, majesty, and glory of infinite Love fill all space. That is enough!" page 520.
When you have infinite omnipresent Love, you have everything. And there is no pain there. Only peace.