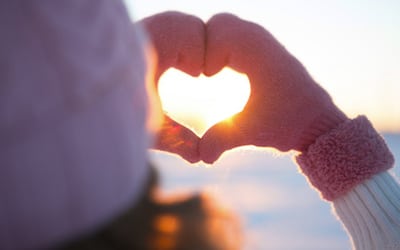 If you're looking for a companion to love and be loved by, you can start with valuing the very best companion you could ever have—Christ!
Christ keeps excellent company.
Christ is the understanding ear of God that hears your every need and is quick to meet it.
Christ is the tender touch of love that is always there to comfort.
Christ sees all the good in you and sees only good in you.
Christ thinks you're a terrific person to be around.
Christ supports you 100%, all the way, and in every way.
Christ is intelligent, smart, witty, fun to be around and the best company you could ever have.
Christ always acts in your best interest, never working against you, but always for your success.
Christ is rooting you on, cheering you on, boosting you up, and confident that you can be everything that God created you to be.
Christ brings out the best in you.
Christ always has an encouraging word to offer.
Christ acts in your best interest.
Christ wants you to have the very best and ensures that you receive the very best.
Christ loves you no matter what.
If you mess up, Christ is still there for you.
If you forget to be kind, Christ forgives you, and knows you'll do better next time.
If you are ungrateful, Christ knows the better side of you that will be grateful.
If you get sick, Christ will be there to make you healthy again.
If you feel weak, Christ will strengthen you.
If you feel despair, Christ will give you hope.
There isn't anywhere you can go that Christ won't go with you. There isn't any place you can be that Christ isn't already there.
You will never be alone with Christ, for Christ is always with you, always loving you, caring for you, watching out for you, conversing with you and protecting you.
Christ is very best companion you could ever have. And you have Christ's companionship now!
Enjoy the company.
"I am with you alway, even unto the end of the world" Jesus Christ, Matthew 28:20.