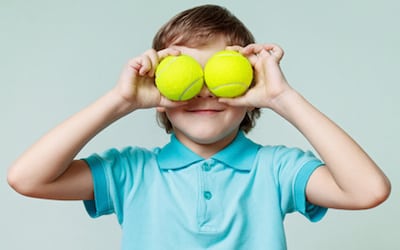 Keep your eye on the ball! It's a rule every tennis player learns.
It's a lot easier said than done, though, at least from my experience.
There are so many distractions that can interfere with a concentrated focus on the ball. Am I in the ready position? Where should I stand? What is my opponent about to do? Where should I hit the ball? And on and on. A host of questions can beg for answers in one's thinking while preparing for that ball to come across the net into your hitting zone that would cause one to be less than prepared to hit the ball squarely.
And then there are the extraneous distractions that arise like, "What am I doing after work tomorrow? What do I make for dinner? Don't forget to get gas when driving home." And on and on…. The human mind can work overtime to find things to think about that are not relevant to the activity at hand.
But it's a rule. When I rivet my eye on that ball and put all the other issues secondary, I hit the ball much better.
The same rule applies to one's practice of Christian Science. If the student wishes to be successful, he must "keep his eye on the ball." He must stay focused on the perfect ideal he is striving to demonstrate.
If his mind wanders elsewhere, gets distracted with lesser concerns, losses sight of the high goal or doesn't grasp it at all, the ball of opportunity God sends his way to prove the truth of being will end up in the net of despair or go bouncing out of court where it ceases to be played.
But this does not need to be! We can keep our eye on the ball and be more successful in our demonstrations of spiritual truth.
The "ball" to keep one's mental eye riveted on, is perfect God, perfect man. These truths are the reality of being.
Every challenge or trial you face is an opportunity to prove the truth of being—perfect God and perfect man—to an increasing degree. It's like a ball coming at you during a tennis game. That ball is an opportunity to hit it back well and gain a point.
But we must keep our eye on the ball to hit it well!
In Christian Science, we must keep our eye on perfect God, perfect man, to demonstrate its reality. Anything less is a distraction and not helpful.
So, eliminate the distractions in your thinking, and focus on what is most important! Keep your eye on the ball of spiritual truth, and hit a winner shot.
Mary Baker Eddy wrote,
"Let the perfect model be present in your thoughts instead of its demoralized opposite. This spiritualization of thought lets in the light, and brings the divine Mind, Life not death, into your consciousness"
Science and Health, p. 407.
"The Christlike understanding of scientific being and divine healing includes a perfect Principle and idea, — perfect God and perfect man, — as the basis of thought and demonstration"
Science and Health, p. 259.