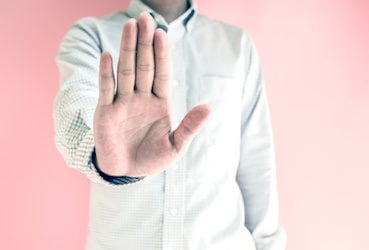 One of the most effective ways to stay healthy is to not let beliefs that cause suffering into consciousness in the first place.
It's easier said than done, most of us would agree.
But there are some rules one can put into practice to eliminate suffering faster when error sneaks into consciousness and begs to take up residence.
One of those rules is to not allow error-creep.
By error-creep, I'm talking about allowing subtle errors to grow into bigger errors; allowing little fears to grow into bigger fears.
Error is a word used in Christian Science to designate anything that denies the reality of God. Disease, sin, and any other belief that results in suffering are examples of error.
For instance, if one hears an ad on TV warning of heart dangers, and entertains the suggestion, "Oh dear, heart problems are a concern," but dismisses it and goes on with life, but then hears the ad again a week later, and becomes a little more concerned and thinks, "I hope I don't' get a heart problem," and then dismisses it, but hears the ad again a month later and thinks, "I wonder if I have that heart problem," and gets worried about it. Then one day during a heavy workout, feels something in his heart and thinks, "I think I have that heart problem," and now is worried about it… I think you're probably following where I'm taking you. It's called error-creep.
Error-creep is allowing denials of God's ever-present love and care to be forgotten and shoved aside while some type of evil takes its place in our awareness. It's thought agreeing bit by bit, more with evil than with good.
Error-creep also happens with sin. We commit a little sin, and think, "No big deal." And maybe it is no big deal. But a week goes by, and we do it again, and think, "Well, I did it before and nothing happened, so it doesn't matter," and we dismiss it. A month goes by and we do it again, and think, "Obviously it doesn't matter because nothing bad is happening to me," and we start to get comfortable with it. The sin takes stronger and stronger hold in thought until we don't see the evil of our ways. This often happens with adultery, dishonesty, greed and a myriad forms of selfishness that leads to severe penalty at some point.
So, be alert. Prevent error-creep! Don't accept sin and disease as normal or okay. Resist their suggestions mightily. Push back hard on mortal mind when it wants you to agree with disease or sin.
Paul admonished, "Resist the devil, and he will flee from you" James 4:7.  Stand up for your spiritual rights when assaulted by error, and refuse to give in.
When you stand on the side of Truth, you will win, for Truth conquers error.
Error cannot creep around in the presence of Truth. It is wiped out and demonstrated to be powerless and nothing when negated with spiritual understanding.
In the divine design, you are a spiritual thinker prone only to entertaining thoughts of truth and love. There is no mental room for error to creep around, any more than hints of darkness can lurk in a bright light.
Keep your spiritual light glowing brightly, and error will find no room for residence in you.