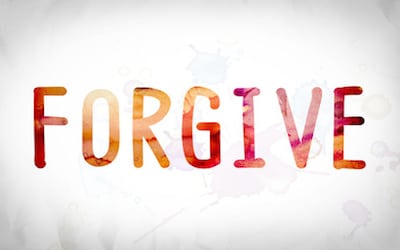 It sure pays to forgive others quickly and decisively.
I saw firsthand how destructive resentments are to one's own success.
It was in a tennis match. A player lobbed a ball over his opponent's head and the ball hit the court on the extreme edge of the line. The opponent called the ball out. It was tough to call. The player who lobbed the ball, and was 40 feet away, disagreed, and yelled, "Really!!" He slammed another ball into the ground with such force that it bounced off the ceiling, and in a rage, he stomped over to his next position. You could see resentment building in his mind.
It was all downhill for him thereafter. The next ball he received, he torpedoed at the player he was mad at with the intent of hitting him. Fortunately, the ball hit the net. He couldn't get anything right from then on. His strokes were off, he hit the ball poorly, losing points he should have won, and within a few minutes, he lost the whole match, which had been very close until that point. He left the court fuming in his own resentments.
The negativity he indulged and its destructive effect was all so needless. If he would have instantly forgiven his opponent, let the close call go and proceeded with his tennis game, he may have won. And left the game with a good attitude. But he didn't. He chose to suffer instead.
And the lesson was clear, there is nothing beneficial about being resentful. It does not bring anything positive into our life. It does not make us a better person. It does not help our neighbor become a better person. It does not make us healthier and happier. It is mental darkness and not to be desired or cherished.
It's always better to love.
Love is not overlooking evil and pretending like it is not there. Love is a position of dominion and authority that empowers one to see what positive steps can be taken to improve circumstances.
In recreational tennis, as a rule, players learn to let close calls go. It happens to everyone. Not often, but on occasion, even the best of players make a call that others disagree with. But understanding players let it go and expect the same generosity to come their way if they make a questionable call. "Love is reflected in love," as Mary Baker Eddy reminds her readers in Science and Health.
So, always choose to love. See God in control, having the final say, and causing everything to work together for good.
You may disagree with someone, or even be offended by what they do, but you don't have to get mad at them. It's not necessary. You can love them instead.
You can take the higher ground of spiritual mindedness and stay out of mental darkness. You can forgive them knowing that all wrongs are righted by divine Principle sooner or later.
The future of everyone is in God's hands, not in yours. In the meantime, while righteousness works its way, forgive and love. It's a much happier and healthier place to be.