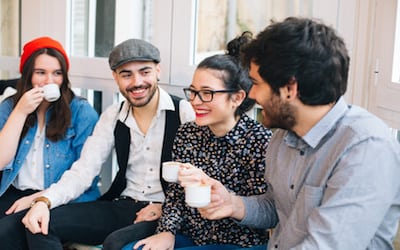 Are you alert to protect your thinking from sympathetic suffering?
By sympathetic suffering, I'm talking about allowing someone else's suffering to become your suffering.
I've known people who were cheery and happy until something bad happened to a family member or friend, and suddenly their happiness was gone. They allowed another's belief of loss to become their belief of loss. Or people who are in excellent health until a close friend loses their health. They feel sorry for their friend, and then later find themselves fighting similar symptoms.
Christian Science is super adamant on the importance of guarding thought against any suggestions that deny the presence of God's perfect creation. To stay in good health, our consciousness needs to be dominated by healthy spiritual thinking. And healthy spiritual thinking is the effect of knowing God's omnipresent good that has no fear of disease or evil.
This doesn't mean we become insensitive to our neighbor's suffering and needs. Quite to the contrary. We become compassionate. Compassion is the act of blessing one's neighbor with truth and love that heals rather than just agreeing with the suffering or feeling sorry about it.
Sympathy can be like standing on the bank of a quicksand pit, seeing a friend sinking in the middle and jumping in with them. Both are then lost. Compassion is keeping one's feet firmly planted on the bank and then reaching out to grab the hand of the one sinking and pulling them out.
Mary Baker Eddy wrote,
"Disease is always induced by a false sense mentally entertained, not destroyed" Science and Health, p. 411.
"Many a hopeless case of disease is induced by a single post-mortem examination, — not from infection nor from contact with material virus, but from the fear of the disease and from the image brought before the mind; it is a mental state, which is afterwards outlined on the body" Science and Health, p. 196.
"Sympathy with error should disappear" Science and Health, p. 211.
Love your fellowman, but don't sympathize with their false beliefs. Heal errors of belief with truth and love!