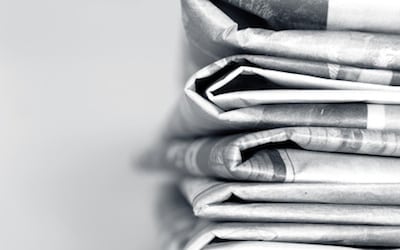 Have you noticed how many advertisements for disease proliferate the media? Evening news programs are some of the worst offenders with 3 to 5 promotions of disease, drugs and dreadful side effects from taking those drugs stuffed in between every news segment.
To stay healthy, it is wise to keep all images of disease out of your consciousness, for if it stays out of consciousness it cannot get into the body.
Mary Baker Eddy made an astute observation about the deleterious effect of promoting disease to the public mind. She wrote,
"The press unwittingly sends forth many sorrows and diseases among the human family. It does this by giving names to diseases and by printing long descriptions which mirror images of disease distinctly in thought. A new name for an ailment affects people like a Parisian name for a novel garment. Every one hastens to get it. A minutely described disease costs many a man his earthly days of comfort. What a price for human knowledge!" Science and Health, p. 196.
We watch the front door of our house to keep out unwanted intruders. We must do the same with the human consciousness.
If we don't want disease in our experience, it must be kept out of our consciousness, for the human body is human consciousness. And we do this by keeping thought filled with truth and love.
Truth knows perfect God and perfect man. Truth knows inviolable health, permanent safety in divine Love, ever-present peace in Spirit. Truth creates immunity to disease and protects thought and experience from it. Truth keeps out all suggestions of sickness and maintains a state of mental and physical harmony.
When mortal mind starts promoting disease to your eyes, ears, or thought, don't just sit there and take it. Do something. Change the conversation, punch the MUTE button, silence the error, dissolve the image, shut down all receptivity to disease. It's not your friend.
You are never helpless in the face of disease promotion. Take the offensive with Truth and promote an agenda that produces good results. Be an advertisement for health and harmony and keep thought on a healthy path of spiritual reasoning and concluding. You'll be much better off in the long run.