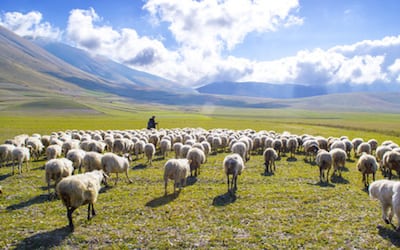 Have you ever felt unprepared to deal with a new development in your life?
Perhaps your boss sprung a new assignment on you that you feel unqualified to finish. Maybe your spouse wants a divorce, money is coming up short, or an ominous health diagnosis just got lobbed on you.
Take heart. You don't have to solve these problems alone. You have the most effective help possible working on your behalf to demonstrate dominion over any situation you face. God is with you, and God is prepared to handle the challenge with ease, grace and appropriate resolution.
When I get caught by surprise, I stop and remind myself that God is never caught by surprise. God is an all-knowing Mind that is always prepared ahead of time. He knows what to do, how to do it and when to do it for the best results. There isn't anything that can happen in God's universe, that God doesn't know about beforehand and isn't fully prepared to deal with. He is the universe, and is wholly good.
If something bad happens in my human experience, and I feel stunned or shocked, I back up mentally and remember that God is my universe where only good happens. The physical picture of trouble is mortal ignorance of God's omnipresent care and love. As I prayerfully get in touch with God's reality and see that divine Love is always at work supporting, sustaining and caring for me, the shock dissolves, peace settles in, and answers start to appear.
God's universe is not a realm of chance, uncertainty or random evil events. It's an experience of predictable good. Stay conscious of God's reality, and you'll find the poise, ease and grace you need to work through any surprises that pop up before you, and come out on the good side.
"The Lord is my shepherd; I have all that I need. He lets me rest in green meadows; he leads me beside peaceful streams. He renews my strength. He guides me along right paths, bringing honor to his name. Even when I walk through the darkest valley, I will not be afraid, for you are close beside me. Your rod and your staff protect and comfort me. You prepare a feast for me in the presence of my enemies. You honor me by anointing my head with oil. My cup overflows with blessings. Surely your goodness and unfailing love will pursue me all the days of my life, and I will live in the house of the Lord forever."