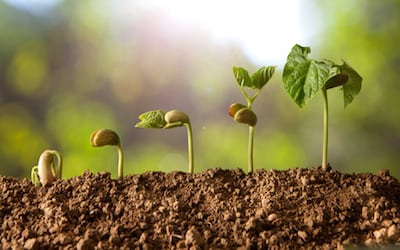 Are you leading a progressive life? Can you think of a new and improved perspective or idea that you learned and put into practice at the end of each day?
Mary Baker Eddy makes this thought-provoking observation, "Mortals move onward towards good or evil as time glides on. If mortals are not progressive, past failures will be repeated until all wrong work is effaced or rectified" Science and Health, p. 240.
Too often, the human mind believes that life will get better with the passing of time or by chance. And it mentally sits around and waits for conditions to improve, repeating the same thought patterns as the past and experiencing the same unhappy results.
To progress, thought has to advance to a better place. As Einstein is famously paraphrased, "You can't keep thinking the same thoughts and expect different results. It's a definition of insanity."
Mental idleness, complacency, and contentment with the past do not lead to progressive thinking and living. They lead to decline and death.
The happier way to live is to demand progress. Be eager to stretch thought to new places, to take in new expansive views of spiritual reality that open your eyes to the grand good of God all around to witness, experience and express. Don't be satisfied with the way things were yesterday.
Life is good. Life is wonderful. Life is fun. Any condition of mortality that denies the goodness of God here and now is a lie. But a lie has to be unbelieved and replaced with truth to be disarmed and neutralized from having a bad effect. This is where we must be up and doing.
Consecrated prayer, keen mental watching, and a hungry desire to grow in spiritual understanding keep our thinking alert and awake to the presence of Christ, Truth, that enables us to see through the lies of mortal mind and conquer them with spiritual truth. That's when healing happens. And that's called progress!
Eddy also wrote, "We all must learn that Life is God. Ask yourself: Am I living the life that approaches the supreme good? Am I demonstrating the healing power of Truth and Love? If so, then the way will grow brighter 'unto the perfect day.'" Here is a prescription for progress. Live the life that "approaches the supreme good." Embrace God with all your heart, accept your worthiness for the best God has to offer, and demonstrate it as a here and now fact of your life.
When the supreme good is your goal, you will not be content with anything less.