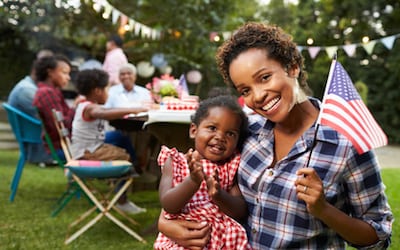 This is Independence Day in the United States, a holiday for citizens to celebrate their nation's right to self-determination and government free of outside control.
I like to extend the spirit of Independence Day to every day of the year. Mary Baker Eddy wrote, "Like our nation, Christian Science has its Declaration of Independence. God has endowed man with inalienable rights, among which are self-government, reason, and conscience" Science and Health, p. 106.
International political tyranny is one form of oppression peoples and nations frequently fight. But there are many other types, and on a much more personal level. The tyranny of disease, alcohol, gluttony, hopelessness, fear, lack, loss of purpose, aimlessness and their kin. These oppressors of mortal mind would hold us in bondage if not resisted and conquered.
Each of us have a God-given right to live free of external oppression. We are children of God created with inalienable rights to health, happiness and freedom to be everything God created us to be.
God is to be acknowledged as the one and only power over our lives, thoughts and actions.
God is the one supreme ruler over the universe, and the only power to honor and obey.
God always has our best interests in Mind, and works 100% to favor and bless us.
We have everything we need in God to be free of all oppression.
So, feel free to declare your independence from all mortal mind claims on you. Rise in the strength of Truth to shake off all mental and physical shackles, find your life in God, and live free!
Let every day be an Independence Day for you no matter where you live in the world.