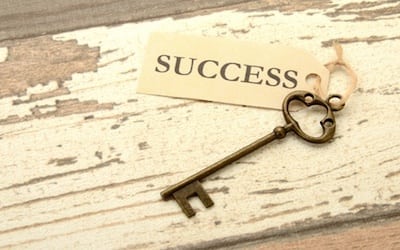 One way to set yourself up for guaranteed success in life is to set goals you can always reach. Set spiritual goals.
I keep learning this lesson in tennis. If my goal is to win a match, I set myself up for major disappointment if I don't win the match. However, if I set a spiritual goal of striving to be a better player through keener listening for Mind's direction during play, expressing quicker reflexes during a point, or discerning wiser strategy to finish a game, I can always succeed, because I can reach these goals no matter what my opponent does. There are never material obstacles standing in the way of achieving spiritual desires.
We feel defeat or loss when we strive for material outcomes and don't reach them. But this feeling is not necessary. The most important success in life is not how much money we earn, what worldly position we attain, fame we acquire or award we win. It's how spiritually minded we are. In the long run, what we materially acquire is lost. What we gain spiritually stays with us forever. Spiritual accomplishment is the one accomplishment that sticks and continues to grow and bless us ever more while the temporal dims, fades and falls away.
So, set yourself up for success. Set spiritual goals, and put all your energy, might and effort into reaching them. God will support you 100% of the way and you can find deep peace in knowing there isn't anything or anyone to hold you back from attaining the most important outcome of all—greater spiritual mindedness.
"Spiritual attainments open the door to a higher understanding of the divine Life"
Science and Health with Key to the Scriptures, p. 10.