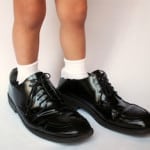 People often voice concern about repeating their parent's bad experiences.
For instance, a 60 year old might fret, "My mother died from a heart ailment when she was 60. I'm afraid I will too." Or, "I have a hard time controlling my temper. I got it from my dad." And the list goes on.
But Christian Science comes to the rescue and teaches that we do not have to repeat errors of our parents. We can do better.
We can learn from our parent's experiences and improve on them. It's called God's law of progress in action!
A good place to start is by understanding that God is our Parent. We inherit all our capacities and health from God and life is our opportunity to act on those capacities and demonstrate abundant health.
What our parent demonstrated does not constrain what we can demonstrate.
If our parent died young from an illness, then we can see the error of that illness and prove its unreality by living a long happy life ourselves. Spiritual truth makes it possible.
God is the source of our health, and always present to demonstrate.
Illness is not self-perpetuating. Truth stops it.
So, don't let the past outline your future. It is an axiom of historical study that we are to learn from past experiences, improve upon them and do better.
Whatever bothers you about your parents will cease to bother you when you understand what is spiritually true about you today. Be what God created you to be, and move forward from where your parent's left off. Your improved example will speak well for them and for you.
"GOD's Message to me: 'What do you people mean by going around the country repeating the saying, The parents ate green apples, The children got stomachache?' As sure as I'm the living God, you're not going to repeat this saying in Israel any longer. Every soul—man, woman, child—belongs to me, parent and child alike. You die for your own sin, not another's" Ezekiel 18:1-4, The Message.