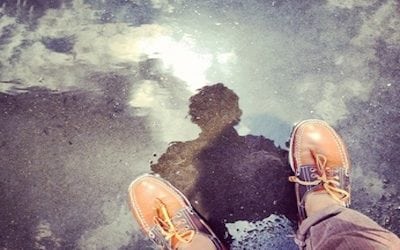 "The great truth in the Science of being, that the real man was, is, and ever shall be perfect, is incontrovertible; for if man is the image, reflection, of God, he is neither inverted nor subverted, but upright and Godlike" Science and Health, p. 200.
The real you is perfect! You do not need to improve yourself, make yourself better, change how you look, or be something different than you already are in God's eyes. You are perfect just the way God made you.
But a key to understanding this reality is not to make the mistake of believing you are material. The material concept of you is a temporal belief that fades and disappears into oblivion as spiritual reality becomes apparent.
The real you is spiritual, eternal, immortal, forever at-one with God in Mind where Life is eternal. It is reflection. And God's reflection never varies from what God created it to be.
The human mind must improve its understanding of spiritual reality to experience more of God's truth. Yes, improvement is requisite for the human mind. But you, the reflection of God, are already at the point of perfection. You are not the one improving. It's the human concept of you that requires improvement.
It's like a pianist learning an advanced piece of music. The music is perfect in Mind. The composer heard the music in Mind and wrote down in symbols his best interpretation of what he heard. The music is complete in Mind. When the student of the music starts to play the piece, he may make many mistakes. What his ear hears, though, riddled with errors, is not the music. It's a flawed material interpretation. But as the pianist understands the music and hears it better coming from Mind, his expression of that music on the piano improves until he gets it perfect. The music was perfect all along. It was his understanding of the music that needed to improve.
Likewise, you are perfect and always have been as God's image. No amount of cosmetic surgery, dieting, clothes-shopping, creams and lotions, is going to improve the real you. What you are in Mind is what you'll always be, and it is perfect.
As you understand the real you as God's reflection, just like the pianist learning his music, what you understand to be true in Mind expresses itself outwardly in the human experience.
As God's creation, you do not improve. You reflect.
Enjoy being God's perfect reflection today.