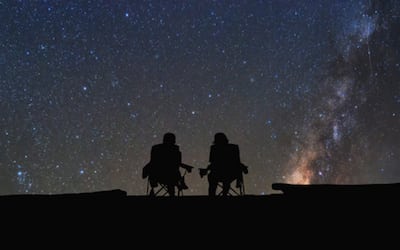 Do you understand that you are living in God's universe of infinite Love and boundless good now?
Too often, people entertain the notion that God's blessings are in some far-off place, out of their reach, or perhaps not attainable until after death. But in truth, all of God's good is here and now.
There is only one universe. There is only one place to live, and that is with God. God is not in some far-off place. God is here and now. God is the only place one can possibly live.
Material sense does not discern God's presence. But spiritual sense does. So, keep those spiritual senses of yours keenly tuned into the realities of God all around and be ready to participate in their blessings.
God is infinite Love. There is no lack of Love to express and bear witness to wherever you go and in whatever you do.
God is boundless good. There is no limit on how much good you can do today, how many people you can bless and how many blessings you can count to be grateful for. The universe of Love you live in will support and prosper your right motives.
Mortal mind would cast a pall over God's universe and make one believe there is lack, limitation and reasons to suffer. But this is an upside-down view of God's creation. God's universe is spiritual. It's here and now and to be experienced fully. And you are right smack dab in the middle of it.
"The kingdom of heaven is at hand," Matthew 3:2, Jesus preached. And spiritual sense discerns it.
Live in the Kingdom, in God's universe, and enjoy life. It's your divine birthright.
"God creates and governs the universe, including man" Science and Health, p. 295.
"Everything in God's universe expresses Him" Science and Health, p. 331.