While hiking in the Grand Canyon, I stayed two nights with my family at Phantom Ranch, a small lodging camp at the bottom of the Canyon near the Colorado River.
The day before our hike out of the Canyon on the South Rim, we decided to hike up the North Rim trail to see the Ribbon Falls. It was a 6 mile trek one way along a stream that ran through a deep ravine with majestic towering walls of rock above, then open spaces, cactus patches, dry desert, rock and sand. It was a harsh environment for plant and animal life to survive in the torridly hot summer months.
When we got to the falls, what a surprise! In the middle of this vast and harsh desert climate was a small ribbon of water dancing out of a mountainside and sprinkling onto a flourishing lush growth of green moss and plant below. It was a stark contrast to the high and dry desert all around.
I stood in awe of the greenery and soaked in the spiritual lessons.
One lesson I saw, was a reminder that it is possible to flourish in places one would not expect to flourish.
How often does the human mind feel overwhelmed by odds stacked against it? Perhaps neighbors are coming down with a contagious disease, and the threat of catching the disease appears to be all around. Or perhaps the economy is poor and the threat of financial lack and loss looms. Or maybe everyone seems incredibly materially minded all around, and it's hard to stay spiritually minded in the face of it all.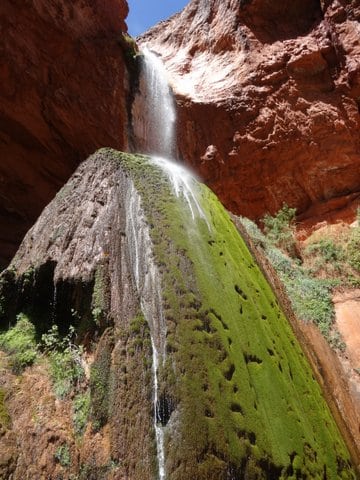 Pin
But as I saw at the Ribbon Falls, it is possible to thrive independently of what is going on in one's surround. It is possible to "Come out and be separate," as the Apostle Paul admonished.
We all have our "stream of water" to feed us. It's spiritual inspiration coming from divine Mind through spiritual sense.
So, if you ever feel like you're standing in some type of harsh and forbidding environment, a type of barren desert, tap into that stream of inspiration coming from divine Mind, and let it bless you. You can still flourish. The environment around you physically doesn't affect what you can demonstrate spiritually.
Choose to thrive!