Last September, Kathy and I visited Yosemite Park in California. Wow, what an impressive park to visit. To drive and walk through the valley and look up thousands of feet to the high towering canyon walls on both sides inspires awe incomparable. Or to hike up the peaks and see Half Dome, El Capitan and other landmarks from on high gives one breath-taking pause and undeniable proof that God's creation is grand and worthy of honor and praise.
I was particularly inspired by a Park Ranger who guided a tour we took one morning through the valley. She was young, petite, in her twenties, mentally sharp and articulate, and in love with Yosemite Park. When we stopped in front of El Capitan, the largest monolith of granite in the world shooting 3000 feet straight up into the sky high above our heads, she dropped a bombshell on our group. "I've climbed that rock seven times," she declared. I was impressed. It takes typically 2 to 3 days for a climber to go up and back down the face of El Capitan. A climber has to sleep in a sling dangling in space high above the canyon floor on the side of the rock as part of the climb.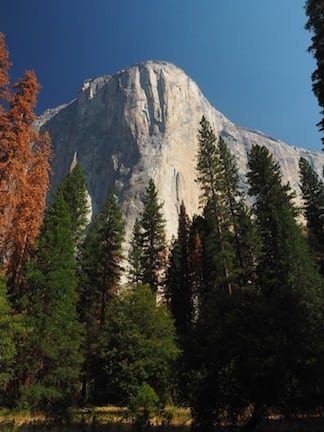 Pin
During a break, I cornered her and asked if the climb was brutal on her fingers. "Do you need iron-tough fingers to make this climb?" I was curious. "Not really," she said. "It's how you use your feet. But more importantly, success is about mental toughness. You have to be mentally tough to not give up and quit when part way up."
I pondered the metaphysical significance of her statement.
We all have our El Capitan cliffs to climb. They are not typically rock formations, but challenges we need to meet, dire predictions lobbed at us, maybe financial calamity or bad health news. From the bottom of the cliff, the climb may look extremely difficult, if not impossible. But we know we have to make the climb. So we start. We may make it part way and then start to doubt whether we can make it all the way. This is where the mental toughness has to kick in and keep us on mission.
To succeed, we can't give into the weakness of the human mind which would cause us to abort reaching a worthy goal. We can't look down and become afraid. We can't look up and think we'll never get there. We can't let mortal mind list all the reasons why we're going to fail and allow them to over shadow all the reasons why we can succeed. We must not forget that God is there to help us get to where we need to be.
Mental toughness in Christian Science is more than strong human will or blind human mind determination. It's understanding the absolute power of God to back us up and bring every right idea to fruition.
When you climb with God, you'll have the mental toughness you need. God never gives up. He keeps you going up until you get to the top where you have a right to be.
"Keep alert, stand firm in your faith, be courageous, be strong."