Sometimes, outcomes in life don't occur the way we expected. In fact, sometimes they occur exactly the opposite way we had anticipated. What then? Do we give up? Do we throw up our hands in despair and walk away?
Last week, I had an 80-foot-tall dead tree I needed to cut down before it fell on a cabin my family visits in the winter.
I got out my chainsaw, and after thoroughly studying the angle of the tree along with my wife to decide which way to drop it, I started to saw.
It was a bit breezy that day, but nothing I worried about.
However, after I cut the V out of the side of the tree that I expected the tree to fall toward, and then the upper cut on the other side to allow the tree to topple, the wind gusted a bit and swayed the top of the tree in the opposite direction that I wanted. The weight of the trunk crushed my chainsaw blade and locked it up. I could saw no more. I had only an inch or more to go. But the tree was leaning in the wrong direction anyway. This was a disaster.
There I stood feeling completely helpless to do anything. I had eighty feet of lumber teetering over my head with a 2 by 2-inch segment of uncut wood holding it in place to the stump. It looked like it could fall in any direction at any moment. Which would be fine in the middle of the forest, but I wasn't in the middle of the forest. There were two cabins in spitting distance, one on either side of this tree.
My heart about stopped. This was not what I had expected! In fact, exactly the opposite.
Feeling utterly out of control, I told God that this was all in His hands now. There was nothing I could see to do. I told Him (haha) that He needed to make the wind go in a different direction, or use the forces of Mind to topple that tree so that it didn't destroy one of the cabins. It's not a habit of mine to tell God what to do, but I was a bit panicked and desperate there for a moment.
I shut down the fear factory in my mind, and prayed. I got super humble, and found quick peace that God would figure this out. God knew what to do and would reveal a plan to us.
My wife and I listened together for guidance.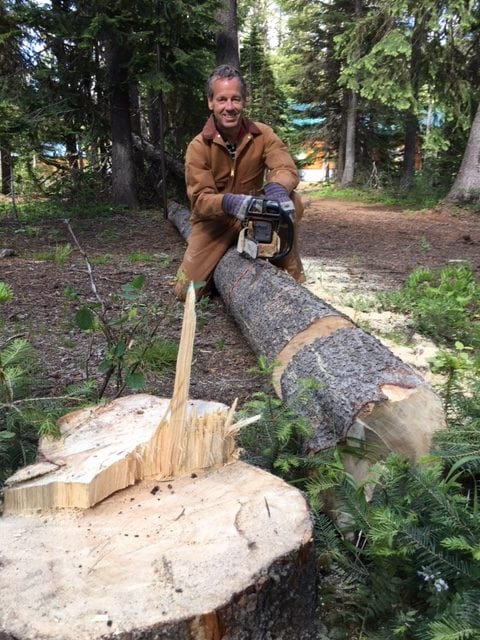 Pin
It took 15 minutes of listening before we heard an idea that felt safe for me to do. The whole time, the tree teetered on the stump like a toothpick standing on the head of a pin. From a physical perspective, the condition appeared beyond precarious and dangerous. But to spiritual sense, God was in control, I felt, holding that tree up until it could be brought down properly.
I got another saw, and with another prayer to God for safety and wisdom to do the right thing, I bent over, looked into the V I had already sawed, and cut less than a ½" out in one particular place that seemed to be just the right place to cut.
Craaaaack, down went the tree with a huge BOOM. It missed both cabins, landed in a safe place, and Kathy and I were dancing a jig that everything turned out okay. And we were so grateful to God for guiding us through that tense experience.
Aside from learning that one should never saw a tree down if there is a breeze, I also learned the spiritual lesson that when conditions turn out exactly the opposite of what you expect, the outcome can still be good. We have to drop all our preformed thoughts, drop all condemnation and criticism for "doing the wrong thing," and open to God's guidance. God is forgiving and understanding, and always has a solution. With divine help, a positive outcome is still possible.
So, if anything is turning out exactly the opposite from what you expected in your life, you too can let go of all your preformed expectations, and open to new possibilities that you never considered. God perhaps has a better plan than you ever dreamed. But no matter what, God has a solution to the problem you face. Clear your mind and let His plan reveal itself.
Pray, listen, and follow. You'll know what to do. And your "teetering tree" will fall in a safe place too.