In an effort to produce lectures suitable for airing on the world-wide web and able to reach large audiences around the world, my local branch church sponsored a series of five short lectures on October 11th.
Our church auditorium was converted to a studio with special lighting and sound equipment. Three videographers filmed the event. The seats were filled to overflowing with eager listeners, and the event was a huge success.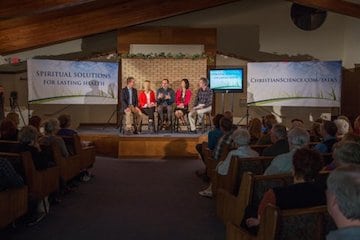 Pin
"Unforgettable," was one word several participants voiced afterward. Enthusiasm was high. Joy expressed in every corner. Inspiration flowed freely and abundantly. Many people drove hundreds of miles from all directions to participate.
For speakers, we brought in Tony Lobl from London, England, Fujiko Signs from Tokyo, Japan, Stormy Falso from Marietta, Georgia, Chet Manchester from King Ferry, New York, and I was the fifth speaker. Each of us prepared a talk around twenty minutes in length centered on the topic of "Spiritual Solutions for Lasting Health." It was such a privilege to listen to so many lecturers at one time speaking from their life experience on how Christian Science had transformed them and brought them to a better place. Content was fresh, easy to understand, and full of deep spiritual insight that left one pondering far after the event was finished.
And the even better news is that you will be able to watch the videos and hear the talks yourself! The Board of Lectureship from National headquarters in Boston coordinated video-taping of the event and is editing the videos. From my understanding, videos of each talk will be released one at a time over the next five weeks, starting today. You should be able to find them at www.christianscience.com/talks. Chet Manchester's talk will be the first release. My video on, "The healing power of God," is scheduled for November 24th.
It was a major undertaking for our small group of branch church workers to pull this together, but with the financial support of a sister branch in our state known for their generosity and desire to share Christian Science with the public, and our collective unwavering commitment to let the one Mind lead the way, the outcome was truly awesome.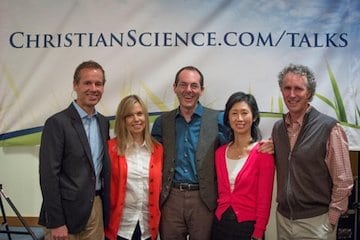 Pin
Our hope is that other branches around the world will be inspired to hold similar events. There are two major benefits. One, the event is hugely attractive to local audiences and guaranteed to bring in many people wanting to understand Christian Science better. Two, it provides an opportunity for the production of high quality video that is attractive to web audiences and capable of reaching thousands of newcomers to Christian Science around the globe, far beyond your local borders.
If you are a lecture chairperson interested in holding a similar event, I'd be happy to answer your questions about how it can be done. Feel free to give me a call.
I hope you enjoy the videos!