How's your sparkle shining today? Is it bright? Is it obvious? Can everyone see it?
I hope so!
I had to snap a picture of this catch-phrase when my wife found it on a decorative piece of wood, "Don't let anyone ever dull your sparkle."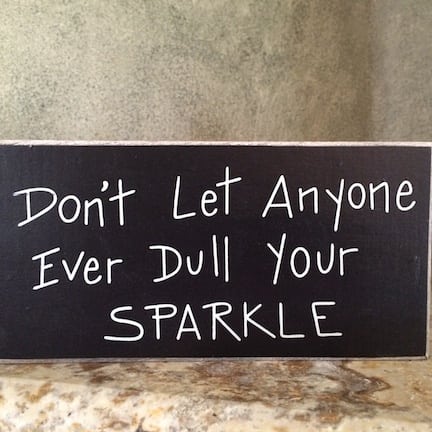 Pin
It was reminder that we need to defend our sparkle! And by sparkle, I'm talking about your spiritual light.
We all have it. You have it! Yep, you have it right now to glow bright, and you never lose it. It comes from God and is always present.
But if you let your thinking get lost into the by-ways of pride, self-righteousness, fear, angst, worry, doubt or discouragement, your sparkle might appear to dim. You must protect the glow of your sparkle!
For instance, if you start your day in good spirit, but a family member is depressed, you might be tempted to feel depressed too. Don't do it! Don't let their struggle become your struggle and dim your sparkle. Love them. Pour truth all over them. Let them see your healing light instead, and you just might see their sparkle rekindle.
Or if you go to work feeling on top of the world, but find a crushing workload waiting for you on your desk. You might be tempted to feel discouraged or despondent. Don't do it! Don't let that workload dull your sparkle. Know that with God all things are possible, that you can handle that work with grace, poise, ease and calm. Enjoy your day and keep your sparkle bright!
There are many other ways that circumstances and comments made around us would rob our sparkle of shine and keep us from letting our light shine as bright as possible, but if you stay alert to your right to shine bright all day, you won't be so tempted to slip.
The divine Light shines bright at all times. Its sparkle never dims. But wait a minute, oh yes, that's right, you are that sparkle! You are the light of the Light. Your light never dims either. It's always bright. Life is your opportunity to prove it.