Kathy and I had our first grandchild last June. A big deal for us! Her name is Kayla Renee, and she is a dear.
We were on babysitting duty for a week recently so that the parents could catch up at their workplaces, and loved spending our days watching Kayla. At one point, our little one was struggling with a stuffy nose. I loaded her into a carrier that positioned on my chest so that I could take her and the dog for a long walk. As I started down the street, I noticed that she couldn't breathe through her nose, and that this stuffy nose issue had worsened. So, I decided it needed to be healed, and quickly would be good.
As I hiked along, I spoke spiritual truth out loud to Kayla in a gentle calm soothing tone.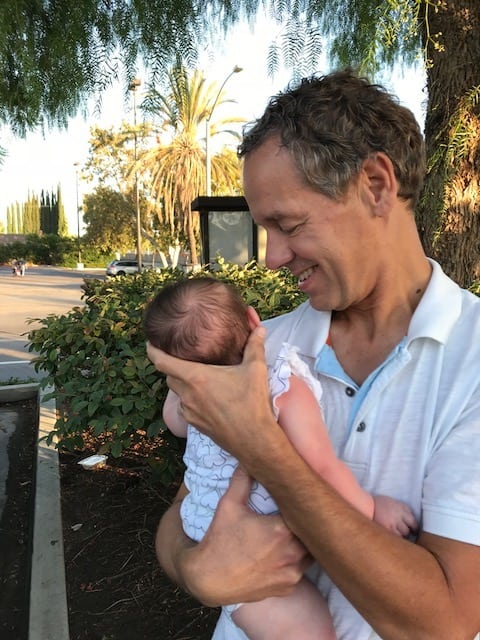 Pin
In my prayers, I started with the facts of her being, reminding her that she was a spiritual creation of God, that her experience was formed and shaped by the Mind of God, and that she was spiritually designed to stay healthy and well.
After we got clear on what she was spiritually, I denied reality to the evidence of disease. I specifically refuted any claim of disease that came to my attention, for instance, that any germ, virus or bacteria could affect her health. In the allness of God, she had been exposed only to positive presence of divine Love, I reminded her. I denied any suggestion of contagion, knowing that only the goodness of God was floating around in her atmosphere, and that she could only breathe in the purity and holiness of God. I denied the suggestion that "colds happen," and affirmed that only health happens.
After a thorough denunciation of any reason for suffering, I rounded the prayer back to the truth that she was a healthy and well child of God this instant, and that she was only capable of manifesting what was spiritually true about her.
After the above prayers, I was so convinced of her health and wellness, that I didn't think of her as having a problem any longer. I enjoyed our walk with the dog.
Twenty minutes later, while sitting on a bench and watching the dog play in the grass, I looked down at little Kayla resting her head on my chest, and noticed that her mouth was closed. She was breathing 100% through her nose without a hint of trouble, and in a perfect sleep. Healing complete.
Hours later her mom noticed that Kayla's nose was clear, and wondered what had happened, because she was aware of a problem over the last 24 hours. I told her about our prayer session together, and how the healing had come about. God had done the work.
Christian Science is awesome. It gives one total government over the body to keep it healthy and well through the power of divine Mind. It can clear up a stuffy nose.